SCADA (Supervisory Control and Data Acquisition)
Having the latest information quickly and in the format required is critical to business, whether it relates to production rates, process efficiencies or material stock levels. Most of this type of data is stored in a database such as Oracle. Often, manufacturing databases are connected to production planning and many other management tasks.
SCADA developers/programmers
Xybella's SCADA programmers have in depth knowledge of the following systems:
Wonderware
Wonderware Intouch SCADA
Wonderware Integrated Application Server (IAS)
Wonderware Historian
Wonderware System Platform
Wonderware ArchestrA
Wonderware Information server
Wonderware IndustrialSQL
Siemens
Siemens WinCC/Win CC Flexible Micro
Siemens WinCC/Win CC Flexible Basic
Siemens WinCC/Win CC Flexible Advanced
Siemens WinCC/Win CC SCADA


Schneider
Schneider Vijeo Citect SCADA
Schneider Vijeo Look SCADA
Schneider Vijeo Historian
Schneider Ampla
General Electric Intelligent Platforms (GE IP)
GE IP Intellution Fix32
GE IP Intellution Proficy HMI SCADA iFix
GE IP Proficy HMI SCADA Cimplicity
GE IP Proficy Historian

Rockwell Automation
Rockwell RSView32 SCADA
Rockwell RSView SE SCADA
Rockwell FTView/ FactoryTalkView SE SCADA
Tascomp
ARC Informatique
ARC Informatique PCVue SCADA
SCADA systems
SCADA systems can be divided into 3 key areas:
Control
Data acquisition
Reporting
Control
Designing and implementing architecture best suited to the application is an extremely important requirement. Often reliable control of processes is critical and can require the implementation of hot backup or redundant systems. Xybella brings together multi-skilled teams to select the appropriate technology for each application. Providing a friendly and simple user interface for operators to control equipment is an important aspect of systems design. Software mimics provide a highly flexible environment by using graphics and controls to represent complex processes. Xybella's approach is to look at the whole automation environment to help you select the best solution. You will be impressed by Xybella's expertise.

Data acquisition
Each piece of data from the field equipment must be individually identified, processed and saved into the real time database. Deciding on which pieces of data should be recorded is often a complex process. Xybella engineers are experienced in selecting the most useful data to provide the highest value to our customers. Whether it is for statistical process control (SPC) or process reliability calculations, we can advise you on the best data to use.

Reporting
SCADA system acquires large amounts of data so how to format and present it in the friendliest fashion is critical to the success of the system. Xybella's team have successfully delivered a large number of systems by working together with our customers to define reporting requirements. We understand fully that reporting requirements often evolve, so we give this area high priority to allow the fastest solutions.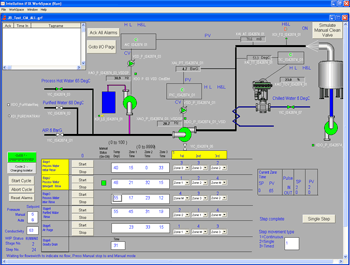 GE IP Intellution Proficy iFix SCADA programmer
Process mimic
SCADA programming
SCADA programming for logic is usually either Visual Basic for Applications (VBA) or a scripting language unique to the SCADA. As a general rule of thumb, logic programming should be avoided as much as possible i.e. implement as much of the SCADA configuration in the standard built-in objects, tick boxes and functions without resorting to scripting. Clearly, scripting is required in many circumstances, so good clear documentation, with comments and highlights of complex or unusual code, makes the logic maintainable for the long term.
VBA usually uses an object model unique to the SCADA to read and write to their tags.
PLC and SCADA systems
This represents the combination of the two technologies PLC and SCADA to deliver automation and control to process, factory automation, packaging and many other automation applications.
PLC SCADA developers
Our PLC SCADA developers bring both PLC and SCADA know-how to a project. This can provide substantial benefits by:
Reducing costs (One engineer's time versus two)
Improving quality (Single programmer is able to maintain the software knowledge of both systems without having to document and communicate it to other engineers)
Reducing development time (No time is wasted communicating cross references)